Associated Press Political News
Comey memo: Trump complained about Flynn's 'judgment issues'
Fri, 20 Apr 2018 01:07:48 GMT
WASHINGTON (AP) -- President Donald Trump told former FBI Director James Comey that he had serious concerns about the judgment of his first national security adviser, Michael Flynn, according to memos maintained by Comey and obtained by The Associated Press....
Rudy Giuliani to join Trump legal team in Russia probe
Fri, 20 Apr 2018 00:35:49 GMT
WASHINGTON (AP) -- Former New York City Mayor Rudy Giuliani, an outspoken supporter of Donald Trump since the early days of his campaign, is joining the team of lawyers representing the president in the special counsel's Russia investigation....
Judge blocks transfer of US citizen with ties to IS group
Fri, 20 Apr 2018 00:40:26 GMT
WASHINGTON (AP) -- A federal judge on Thursday blocked the government from transferring an American citizen accused of fighting with Islamic State militants to Saudi Arabia, meaning he will stay for now in a U.S. military detention facility in Iraq....
Trump will skip Barbara Bush funeral, sending first lady
Thu, 19 Apr 2018 22:50:44 GMT
WASHINGTON (AP) -- President Donald Trump won't be joining his wife in attending the memorial service of former first lady Barbara Bush, matriarch of a political dynasty that Trump often clashed with during his 2016 campaign....
Trump says anti-drug briefing he heard shows need for wall
Thu, 19 Apr 2018 19:01:46 GMT
KEY WEST, Fla. (AP) -- President Donald Trump said he received a "great education" during an anti-drug trafficking briefing Thursday that underscored the need for the wall he has promised to build along the U.S.-Mexico border to help stop drug smuggling....
Pompeo nomination picks up support of key Democratic senator
Thu, 19 Apr 2018 22:39:11 GMT
WASHINGTON (AP) -- Mike Pompeo's nomination for secretary of state received a boost Thursday with support from Democratic Sen. Heidi Heitkamp of North Dakota as Republicans warned lawmakers not to reject President Donald Trump's choice for top diplomat ahead of North Korea talks....
FBI offers $1M for info on US reporter missing in Syria
Thu, 19 Apr 2018 21:52:48 GMT
WASHINGTON (AP) -- Federal authorities for the first time are offering a reward for information leading to an American journalist who has been missing in Syria for more than five years. The reward is up to $1 million....
Associated Press Political News
USA Today Political News
Bill Richardson: Trump must calibrate North Korea comments
Thu, 19 Apr 2018 18:18:08 -0400
The former U.S. Ambassador to the United Nations and Governor of New Mexico, Bill Richardson, warned President Donald Trump Thursday to "be more careful" in his communications about North Korea and the upcoming summit. (April 19)
State Dept.: Syria, Russia keeping inspectors out
Thu, 19 Apr 2018 17:47:55 -0400
The State Department says it believes Syria and Russia are working together to keep the Organisation for the Prohibition of Chemical Weapons team out of Douma, while they get rid of evidence of this month's chemical attack. (April 19)
Meet the new U.S. senators
Thu, 10 Nov 2016 13:28:26 -0500
The 2017 freshman class includes the first Latina senator along with the first African American and Indian American to represent California in the Senate.
Barbara Bush through the years
Thu, 19 Apr 2018 17:33:01 -0400
Barbara Pierce Bush, the former first lady, died at her Houston home Tuesday after a long struggle with congestive heart failure and pulmonary disease. The down-to-earth matriarch who saw both her husband and son win the White House, was 92.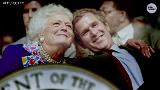 Sen. Duckworth and daughter make Senate history
Thu, 19 Apr 2018 15:52:57 -0400
Sen. Tammy Duckworth and daughter Maile have made Senate history. The Illinois Democrat brought her daughter, in a pink hat, onto the Senate floor under new rules that permitted it. (April 19)
USA Today Political News
CNN Political News
Comey: 'I didn't have confidence' in deputy AG Rosenstein
Thu, 19 Apr 2018 23:24:26 GMT
In the wake of President Donald Trump's tweet hinting there might be "tapes" of their conversations, former FBI director James Comey said he had a friend disclose details of his interactions with Trump in order to prompt a special counsel.
James Comey, political animal
Thu, 19 Apr 2018 23:37:35 GMT
Former FBI director James Comey is very, very concerned with ensuring that he is not perceived as a political guy.
Bolton, Kudlow on the rise, but risks abound
Thu, 19 Apr 2018 23:19:42 GMT
President Donald Trump has seen a parade of favored aides come and go his first year in office, some more quickly than others. But rarely have two advisers been as publicly praised or as internally aggrandized as national security adviser John Bolton and top economist Larry Kudlow, who entered the West Wing this month from perches at cable television networks.
Snapshots from the US-Mexico border
Thu, 19 Apr 2018 22:55:51 GMT
CNN went with Department of Homeland Security Secretary Kirstjen Nielsen as she traveled to the US-Mexico border on Wednesday.
Mueller team says it has not gone rogue
Thu, 19 Apr 2018 22:12:32 GMT
Deputy Attorney General Rod Rosenstein discussed with special counsel Robert Mueller what prosecutors should pursue in the Russia probe as early as last May, when Mueller was first appointed, the special counsel's office said Thursday.
Haley's retort shows why she's unique in Trump's White House
Thu, 19 Apr 2018 17:06:59 GMT
Public humiliation is a rite of passage for many top officials in the Trump administration. But when it was Nikki Haley's turn this week, she fought back, defending herself in a way that reflects her unique status in the Trump administration.
CNN Political News
Yahoo Political News
Ted Cruz shrugs off past feud and lauds Trump in Time essay
Thu, 19 Apr 2018 15:29:20 -0400
Ted Cruz wrote an essay for Time magazine's "100 Most Influential People of 2018" issue, praising President Trump, who the Texas senator once described as a "bully," "narcissist" and "serial philanderer."

Join us for a live video taping of Skullduggery
Thu, 19 Apr 2018 11:24:19 -0400
Join Yahoo News' Editor-in-Chief, Daniel Klaidman, and Chief Investigative Correspondent, Michael Isikoff, for a special live video taping of Skullduggery.

Unfiltered: 'We are human beings'
Wed, 18 Apr 2018 21:29:49 -0400
In the middle of an empty Manhattan church on a Wednesday afternoon sits Rev. Juan Carlos Ruíz, adjusting his priest collar. Outside, people cross the street to and from Central Park. Although it is April, they are still dressed in winter coats.

State hits Memphis for removing Confederate monuments
Wed, 18 Apr 2018 14:29:51 -0400
Months after Memphis circumvented state law to take down two monuments, the Tennessee legislature voted to remove funding that would've gone to commemorating the city's bicentennial.

Yahoo Political News